Hello from London!
Jim and I arrived on separate planes at Heathrow within minutes of one another (he flew on points, I flew cash). We were met by a driver, a Brazilian fellow who fell in and out of love with an English woman some years ago, but fathered a son during the "in" period and so stays on, hauling travelers back and forth from the airports. We were dropped off at our lovely South Kensington Hotel, Number Sixteen (points again!) where we left our luggage—room not ready—and took off on foot. This after many sleepless hours aloft.
We bought our Oyster cards, ate lunch, then marched right past the Victoria and Albert museum to tour the opulent food court in Harrods.
Since this is our literary tour of England, and in honor of Barbara Pym, we walked over to Belgravia, the area always alluded to in Excellent Women as a bastion of wealth and upper-crust life. The book's protagonist, Mildred Lathbury, wonders, for example, if the churches in Belgravia hold jumble sales. In Some Tame Gazelle, another spinster, Connie Aspinall, pines for the day when she was a paid companion to a woman who lived in Belgrave Square. We found the square, which surrounds a large alluring block of beautifully tended private parkland that's accessible only to residents of the Square. We see why Connie pined.
Leaving Belgravia, sleep deprivation caught up with us, but seeing Conrans, the British design store instantly revived us. No we didn't buy anything for the house. Not even this lovely table.
After a short rest in our room, we had a rendezvous with Jim's friend and colleague Janill Richards and her husband Andy. They were staying at an Air B&B just around the corner and popped by for a visit—so fun, meeting friends abroad. Time for dinner. Jim and I rode a double decker up to St. John's Wood to The Original Lahore, a Pakistani restaurant recommended to us by friends back home. Now we recommend the grilled, marinated lambchops and a superb butter chicken.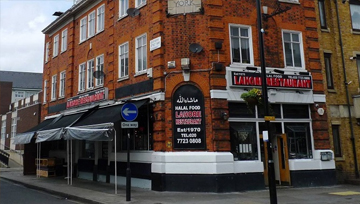 #bgOverlay { background-image: none; background-color: grey; }